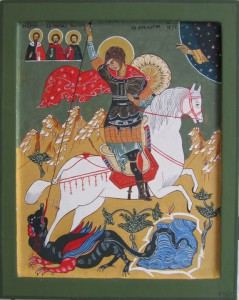 With deadly accuracy Saint George, astride his horse, strikes the hideous dragon with his spear. The event unfolds in a barren landscape, dominated by craggy rock formations, the occasional tree and a pool of water.
In the top right corner, a godly hand extends to bless the triumphant saint. To the left, three holy men, complete with nimbus and crosses, look on.
The legend of the late third-century George of Cappadocia, as George was officially known, was especially popular in Russia during the Middle Ages.
The courage he showed led him to be named 'The Conqueror'.
Size 28 x 35 cm ●