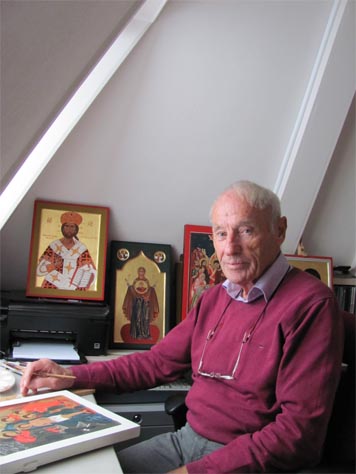 One Sunday in 1977, in Athens, I attended a Greek Orthodox service for the very first time. I was very impressed with the church itself, the interior, the walls covered with frescos, the Iconostasis and its icons. The small, male voice choir of seven persons, singing the liturgy together with the priest. It was an unforgettable experience. The religious intensity of the congregation also made a deep impression on me. It was there that my interest in icons and everything relating to them began; my extensive study of icons and how they are painted has its origins in that church. You can now see the results of these past years on this site.
The icons, which are presented in the exhibition pages of this site, refer to the original icon on which the new one is based and the century in which it was originally painted.
Some of the icons, Hindu, Chagall and Romanian works are for sale. If you are interested in one of those shown here, please state this on the contact form. Each icon comes with a description of its origin, the way it was made and how it came about.
Paintings accompanied by a red dot (●) are no longer available.