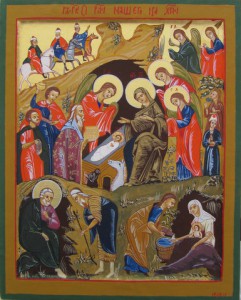 Along the top edge is written in Church Slavonic 'The birth of our Lord Jesus Christ'.
The icon depicts various scenes relating to the birth that follow the late medieval Russian iconography. In the centre is the adoration of the magi from the East, holding in their hands their gifts of gold, frankincense and myrrh. The ox and the ass refer to Isaiah 1 verse 3.
In the top right hand corner are two angels, below them two shepherds playing the flute. In the bottom right hand corner the child is being washed, and in the bottom left corner is Joseph, listening to an old shepherd standing before him.
Size 28 x 35 cm.●