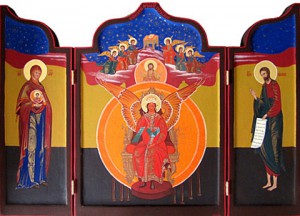 On this triptych the Wisdom of God (in Greek: 'Hagia Sophia') is personified in the image of a woman sitting on a throne. She has angel's wings and holds a sceptre and staff in her hands.
To the left is the Mother of God with a diskos bearing the image of Christ Immanuel. To the right stands John the Precursor holding an open scroll in his hand.
Above the Hagia Sophia is Christ Pantokrator, and above him six angels and an empty throne on which rests an evangeliary.
Size: 58 x 37 cm.